Note: Timecodes are based on DVD releases of the episodes (Region 1, NTSC).
CONTINUITY: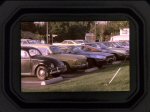 K.I.T.T.'s point of view of the shopping center parking lot... is actually the hospital parking lot from later in the episode.
0:07:19
0:08:18
0:11:20
0:28:46
The same Herbie-style VW Beetle appears several times throughout this episode. Another appears at 0:41:01.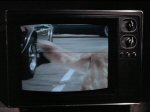 Magic camera angles from K.I.T.T.'s scanners. And how did everyone miss that dog's tail?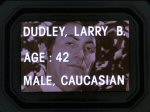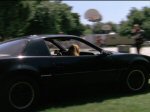 Sugar disappears from the passenger seat.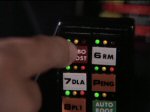 Michael is in the passenger seat, which means that the Turbo Boost switchpod is to his left. The stock footage of him hitting the button features his right hand.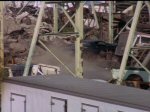 The film has been flipped, and Michael appears to be driving the car from the passenger side.
DASH: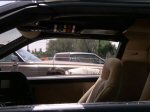 The complete 'computer car', with overhead console the way it should be...
0:05:45
0:08:33
0:33:17
0:48:06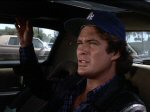 ...and the car used for most of the interior shots throughout the episode, which is missing those controls.
0:14:53
0:25:45
0:35:03
0:35:30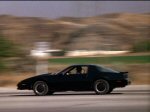 The Trans Am has a regular dash and steering wheel.
K.I.T.T.: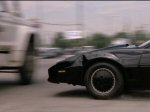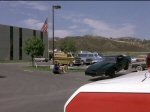 The dunebuggy K.I.T.T. leaping an obstacle.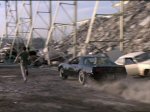 K.I.T.T. on auto-drive. The stunt seat is ringed.
0:14:53
0:41:23
0:41:27
0:43:51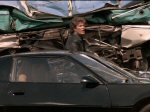 This Trans Am is a disguised hardtop.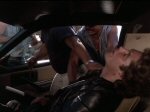 David Hasselhoff inside the hard-top Trans Am.
STOCK FOOTAGE: