Note: Timecodes are based on DVD releases of the episodes (Region 1, NTSC).
CONTINUITY: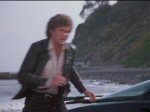 K.I.T.T.'s trunk lid is open from the moment Michael gets out of the car in readiness for his command a few moments later.
0:11:50
0:11:51
0:12:05
0:12:06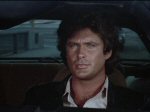 A car following appears and disappears between shots, and the scuba gear in the trunk area also changes positions.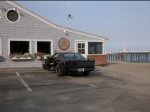 Skid marks left by K.I.T.T. from 0:31:45 can be seen as K.I.T.T. parks at the restaurant at 0:12:23.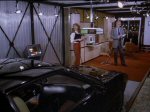 The semi trailer set had removable walls to allow for different placements of the camera. Here we can see the edge of the set.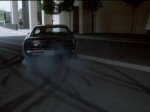 Skid marks from multiple takes of K.I.T.T.'s arrival and burn-out from the hospital can be seen in this shot.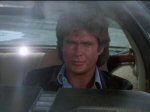 K.I.T.T. is speeding up the pier, but the insert shots of Michael driving show them on the beach.
DASH: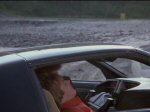 K.I.T.T.'s switchpod consoles are missing.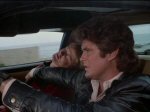 The Trans Am used for interior shots is missing the overhead controls. At 0:06:34, part of the clamp attaching the camera to the door can be seen.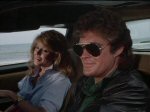 As April gets into the car, Michael is pressing overhead switches. When we move to a close-up of them in the car, the overhead controls have disappeared.
K.I.T.T.: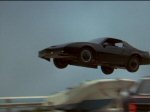 The lightweight, dune-buggy stunt car with Trans Am shell.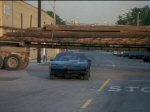 The Trans Am that has the close shave with the trailer is equipped with a rollcage.
STOCK FOOTAGE: