Note: Timecodes are based on DVD releases of the episodes (Region 1, NTSC).
CONTINUITY: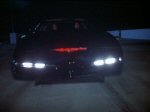 This shot of K.I.T.T. racing towards camera is being played in reverse. Doubles can be seen inside the car.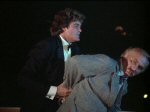 Watch carefully - in spite of hearing the sound effect of the handcuffs snapping shut, David Hasselhoff doesn't even put them around Jack Starrett's wrists.
DASH: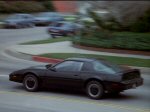 Stock footage from first season episodes, featuring Trans Ams with regular, stock dashboards.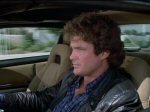 Stock footage from the previously filmed episode BLIND SPOT. This car is missing a complete overhead console. Part of the camera equipment outside the car can be seen reflected in the passenger window.
K.I.T.T. is stationary, yet his speed and rev readouts are continuously counting down.
K.I.T.T.: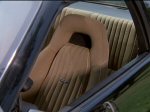 Something rests on the empty driver's seat, while filming equipment is reflected in K.I.T.T.'s shiny door.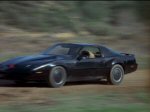 Blind driving scenes. The Auto Drive seat is visible and highlighted.
STOCK FOOTAGE: